FIRE LIGHT SR 725 - Cylinder Furnaces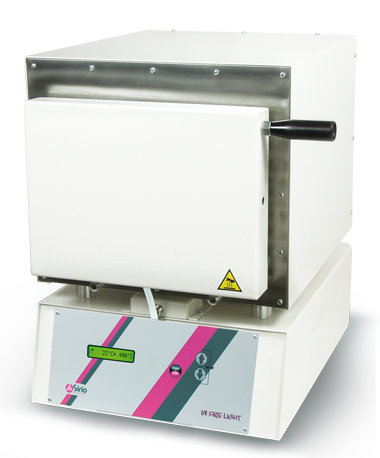 Electronic control unit with Micro-process and permanent memory. N.2 heating programs: one program for TRADITIONAL coatings, who contains up to 3 phases (with choice of Temperature, Temperature increase rate expressed in °C per minute and holding time) and one program specifically studied for FAST coatings.
Ignition delay up to 100 hours.
It comes in 3 different versions depending on the size: S, M, and L.
All versions can be equipped with flue fume aspiration (SR731).
Fire Light 720 S - chamber cm 16x16x10
Fire Light 720 M - chamber cm 18x23x11,5
Fire Light 720 L - chamber cm 23x30x15
| | | | |
| --- | --- | --- | --- |
| Technical Specifications: | SR 725 S | SR 725 M | SR 725 L |
| Power Supply | 230 V - 50/60 Hz | 230 V - 50/60 Hz | 230 V - 50/60 Hz |
| Dimensions | 32 (L) x 40 (P) x 47 (H) cm | 36 (L) x 46 (P) x 49 (H) cm | 42 (L) x 53 (P) x 52 (H) cm |
| Camera | 16 (L) x 16 (P) x 10 (H) | 18 (L) x 23 (P) x 11,5 (H) | 23 (L) x 30 (P) x 15 (H) |
| Weight | 28 Kg | 35 Kg | 45 Kg |
| Max temperature | 1100° C | 1100° C | 1100° C |
| Absorbed power | 1500 W | 2000 W | 2800 W |
| Capacity medium cylinders (3X) | 9 | 12 | 24x2 |
| Capacity big cylinders(3X) | 2 | 4 | 9x2 |
| Normal programs | 1 | 1 | 1 |
| Phase | 3 | 3 | 3 |
| Fast programs | 1 | 1 | 1 |
Accessories:

SR 731 Fumes Aspiration Flue (Optional for all versions)
SR 311 Cylinder Clamp
SR 732 Dewaxing plate Small
SR 734 Dewaxing plate Medium
SR 736 Dewaxing plate Large