SR 225 - Stump Tooth Separator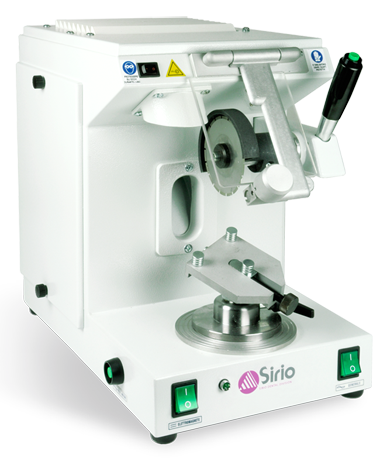 The SR220 Stump Tooth Separator has been designed and built to be used specifically for the separation of threadable stumps.
The machine is equipped with a built-in aspirator and a laser guide to precisely identify the cutting point.
The machine is equipped with a holding-models support with electromagnetic fastening on the machine table. The models are cut by a diamond disc blade which obtains a perfect and continuous cut on plaster models but it can also cut resins and plexiglass.
Some specific technical choices have been adopted in order to achieve the user perfect safety, such as disc shielding carter, mandatory use of both hands and fast rotation stop.
| | |
| --- | --- |
| Technical Specifications: | SR 225 |
| Power Supply | 230 V - 50 HZ |
| Power | 0.35 Kw |
| Rotating Speed | 3.800 rpm |
| Tip Diameter | 80 mm |
| Cut thickness | 0.25 mm |
| Halogen lamp | 5 W - 12 V |
| Dimensions | 240 (L) x 390 (P) x 350 (H) |
| Weight | 22 Kg |
| Noisiness | 67 Db-A |
| Aspirator | YES |
| User Guide | YES |